Coffees journey is a long one with the little beans taking up to 5 years to grow and 6 months to reach our roastery, the last 30 seconds are crucial to the enjoyment of the drink.
Message us to find out more about training
We offer all our customers free training to ensure they get the best from both equipment and from our coffees.
Everyone enjoys learning and with the correct knowledge or just a refresher a much better product can be produced which in turn leads
to repeat business.
We provide an education to coffee, where it's from, how it's grown and the journey it takes to get to the cup.  You will get to understand the equipment by producing the perfect espresso.  Milk techniques for speciality drinks, drink production for the menu and cleanliness of the area and equipment are included.
Sessions are scheduled in to ft with your timeframes and on your premises. Staff then feel comfortable and with an experienced trainer
you're in great hands.
Tea is as important!  With tea being the second largest drink consumed in the UK our on-site training gives staff the knowledge, passion and confidence to describe the differences between your Lapsong Souchongs, Greens, Blacks and Herbal Infusions.
Hessian coffee are always polite, knowledgeable and helpful with any request asked of them, and we ask a few!. The guys check in with our team on a regular basis to support with any training needs and makes sure the machines are running smoothly. The coffee produced is always fresh, packaged well with a prompt delivery service and often in person
Hessian Coffee were amazing, helping our community and volunteer  led start-up business find the right coffee machine and taking all of the hassle out of a new service contract. Training is spot on and delivered to meet our needs. Their coffee blends are amazing too, our customers regularly comment on the smooth taste. We love Hessian Coffee Co.!
We have been using Hessian for our coffee requirements for a number of years and in that time we have always found the quality of coffee and service that we have received from them has been nothing short of excellent! Furthermore when we needed some assistance with our staff barista training Neil was happy to step in at short notice to assist. His knowledge and passion for coffee is exceptional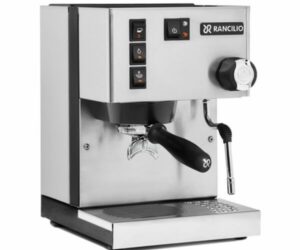 Introduction to the Rancilio Silvia V6 If you've been on the hunt for the perfect home coffee machine, you may have come across the name Rancilio Silvia V6. This semi-automatic coffee machine has been lauded as one of the best on the market, and for good reason....
Address
Latchmore Bank
Little Hallingbury
Hertfordshire
CM22 7PH