Free Delivery
on all orders over £40
We aim to dispatch all orders placed before 12:00 the same day for next day delivery Monday to Friday. We can even arrange Saturday deliveries if needed. Rancilio Silvia V6
With Silvia, enjoy barista-quality espresso anytime at home. Its sleek design enhances any decor, while its unique insulated boiler ensures energy efficiency, excellent thermal stability, and uncompromised beverage quality. Adhering to European ErP and Ecodesign norms, Silvia minimizes energy use in standby mode and automatically powers down after inactivity, perfectly combining aesthetics, performance, and eco-friendliness.
Honest Review
Technical Features
Supporting structure: in black-painted steel
Body and control panel: in satin-finish stainless steel
High thermal accumulation boiler
Brewing unit and boiler: in a special lead-free alloy
Professional brewing unit and filter holder
New Features
Elegant black group cover (polycarbonate material + ABS)
Stainless steel steam wand, durable and easy to clean
Professional tamper with black wooden handle with 58 mm stainless steel flat base
New set of button icons
Filters with 1 and 2 doses, measuring scoop, tamper.
Steam nozzle, knob and drip tray grid.
The professional image and exceptional quality of the Silvia are heightened by its ergonomic design, which includes a new commercial articulating steam wand and steam valve. Its newly designed drip tray grid ensures easy cleaning. The Silvia's professional appeal is enhanced with a commercial-style filter holder and a chrome-plated group cover, both crafted with ergonomic considerations.
The latest model of the Rancilio Silvia V6 E 2020 uses less than 0.5 Wh (watt-hour) of power when it's not being used. It also turns off by itself if not used for 30 minutes, as required by Eco design rules. The people at Rancilio LAB who design and improve our products have done even more for sustainability. Because of this, the latest Rancilio Silvia V6 E 2020 has a special boiler. This boiler is wrapped in a foam cover that's really good at absorbing heat and noise, which means it uses less energy when it's on. Also, the parts of the Rancilio Silvia V6 E 2020 that touch water don't release any harmful things and don't affect the taste of your drink. Our goal is to keep the machine working well and stable in terms of temperature.

The latest Rancilio Silvia V6 E 2020 coffee machine has a handle that's designed to be easy to use. It also has a few extra features. There's a cup warmer to keep your coffee hot and a wand that moves in all directions to make frothing milk easier. The machine is built on a stainless steel base, making it perfect for kitchen use. Plus, it has a safety feature – if something goes wrong, a thermostat will automatically turn the boiler off.
The machine now follows all the rules set by the European EuP directive. The power button has been redesigned - instead of an on/off switch like the old model, it now goes back to its original position after being pressed.

The Rancilio Silvia V6 E 2020 Last Edition makes coffee just like a larger commercial machine does. The new model even has a 58mm portafilter like the ones used in coffee shops. The big filter holder helps spread water evenly over the coffee. This is part of why this new model can make such great coffee. The part that holds the coffee and the filter holder are made of cast brass and are covered in chrome. Cast brass is the best for keeping the temperature steady while the coffee is brewing because it holds heat well. Because it uses cast brass, like commercial machines do, the Rancilio Silvia V6 E 2020 Last Edition can make coffee that tastes as good as the best coffee from a cafe. The portafilter has a handle designed to be comfortable to use. The Silvia also has a cup warmer built in, can dispense hot water for hot chocolate, tea, and long espresso drinks.
Below all the the accessories you will receive with this amazing Rancilio Silvia V6 E 2020 Last Edition.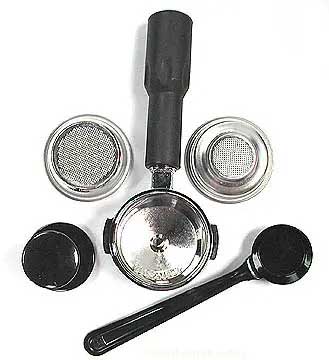 The Rancilio Silvia V6 E 2020 Last Edition comes with a new steam wand that moves in all directions, which makes it easier to froth milk. You can use it with different sizes and shapes of jugs. The Silvia has a big water container that you can fill from the top of the machine. This makes it easy to keep making great coffee. Having a good grinder is as important as having a good coffee machine, and many people don't realize this. Also, don't forget about having a good coffee tamper! The machine also has some safety features that you should know about.
Surprisingly, the Rancilio Silvia V6 E 2020 Last Edition has some new features compared to the old model that make it even better! It has a brass boiler for making plenty of steam, a 58mm group head (the part that the coffee goes in) made of brass for keeping the heat stable, and a strong iron frame with a stainless steel cover to make it last a long time.
There are three thermostats (devices that control temperature). One is for the boiler, one is for making steam, and the third one turns off the power to the boiler if something goes wrong. You can reset this third thermostat anytime. It works like a circuit breaker switch, but it's inside the machine so you might have to unscrew some parts to reach it. The Silvia also has a 3-way valve that lets out pressure from the machine when you turn off the brew switch. This helps prevent the machine from dripping or spraying hot water and it also makes it easier to remove the used coffee grounds.
Eureka Mignon Specialita Home Coffee Grinder
The Eureka Mignon Specialita, which comes in either black or white, fits neatly and quietly on any countertop with easy-to-use touch screen and larger grinding components.
It's our best-selling grinder for making espresso at home - it works fast, provides consistently good results, and is built to last.
How to setup and use your Mignon grinder
Product features:
Brand: EUREKA
55mm Flat hardened steel burrs
Digital touch display with 2 settings plus continuous mode
310W Motor
1350 RPM
Stepless micrometric regulation
Hopper Capacity 300gram
Weight: 5.6Kg
Approximate Productivity (g/s) - 1.2-1.8 Espresso / 1.9-2.5 Brew
All purpose fork for hands free operation
Silent Technology
Dimensions: H: 350 x W: 120 x D: 180mm
Additional information
Rancilio Silva V6 Espresso Machine
| | |
| --- | --- |
| Brand | Rancilio |
| Boiler Type | Single Boiler |
| Group Head | Single Boiler |
| Water Connection | Reservoir |
| Temperature Control | Heat Exchange |
| Dimensions | 235mm x 290mm x 340mm (WxDxH) |
| Power | 1100W (13 Amp Plug) |
| Tank Capacity | 2Ltr |
| Pump Type | Vibration |
| Net Weight | 14 Kg |
| Total Bolier Capacity | 0.3 Ltr |
| Steam Wand | Yes |
| Hot Water Tap | No |
| Variable Pressure Profile | No |
Free Delivery
on all orders over £40
We aim to dispatch all orders placed before 12:00 the same day for next day delivery Monday to Friday. We can even arrange Saturday deliveries if needed.