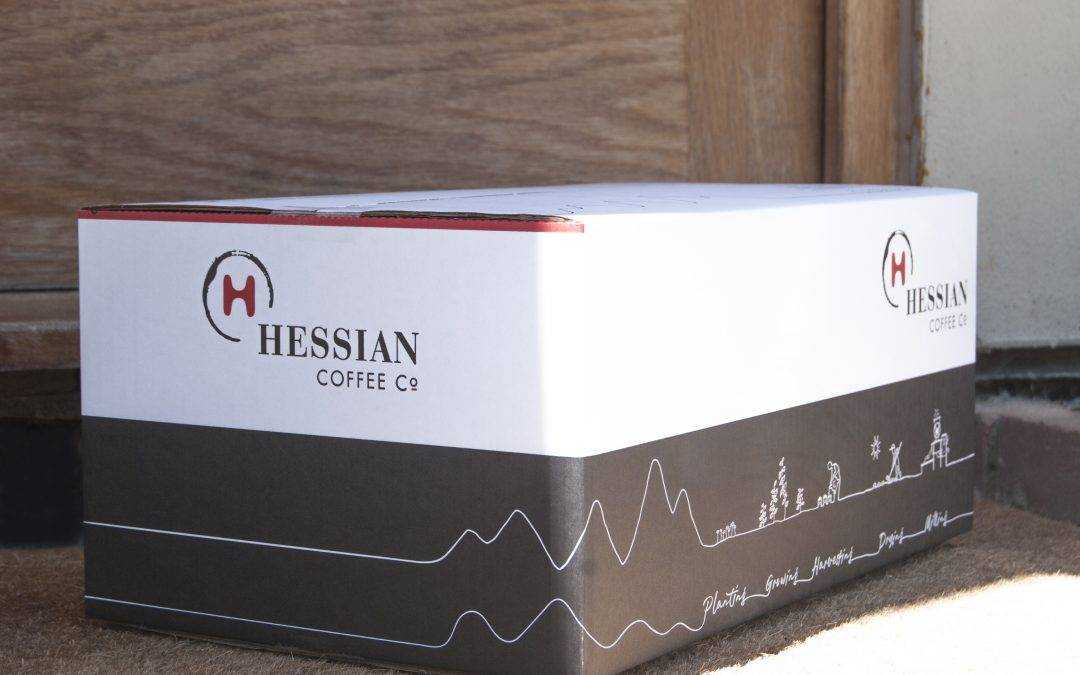 NOT JUST ANY BOX! Take a look at our new Hessian Box. Our new espresso boxes, which we are very excited about if you couldn't tell, are not your usual plain brown boring box.  These boxes have been thought about, designed, re-thought about and produced. Then re-designed and re-produced until we were happy to deliver our product out to our customers in them. We decided a box should not be dull, it should reflect the journey it's taken along the way. Also it should give an insight into what it holds! We think it should also educate and inspire.  Lets make it add value, brand loyalty and educate at the same time. After all these are the core values we strive towards at Hessian Coffee and our boxes now reflect this.
What's inside the box!
Our freshly roasted espresso beans are what's inside the box. These could include our Espresso Number 1, Espresso Reserve, XTC Blend, House Blend and our Great Taste Award Winning Bourbon Select.  Hessian will be delivering all these coffees in our 6 kilo boxes detailing the coffees journey from seed right through to cup.
The coffee Journey
This coffee journey is a long one.  It all starts from the planting then moves to the harvesting, this can take up to 4 years! The beans as we know them are initially the seeds from the coffee plant which are nurtured as seedlings.  They are watered often and kept shaded from direct sunlight. Once planted and in time, these become the newly grown coffee trees which bear the fruit, commonly known as the cherry, and are ready for harvesting.
This harvesting (picking) is generally done by hand making it very labour intensive.  For our Arabica coffees, these are picked at altitudes above 4 thousand feet (this is Ben Nevis FYI). Once the beans are harvested these then go through a process to remove the seed from the plant either by drying in the sun, or by rinsing constantly in water. Depending on the method a different taste profile is produced. The seeds need to be dried once again, either on huge patio beds whilst being constantly turned over in the sunshine, or by large tumble dryers.
Our little seeds then have a further process called Milling to remove the outer skin or "parchment".  They are then polished ready for grading, sorting and filling into Hessian (Jute) sacks ready for shipping.
It's a long Journey
After the long journey across the seas, the seeds are blended and roasted to our specifications. Next they are tasted and inspected for consistency and quality.  Then they are packaged locking in the freshness and the last 4 years efforts.  Finally they get delivered direct to our favourite customers doors.
We cannot control a lot of the journey until this stage.  Maintaining fresh coffee is key.  Also using and maintaining the correct espresso equipment is fundamental.  The water needs to be of great quality.  Grinding our coffee is as important as that first planting of the seed and if not, a correct extraction we will ruin the last 1460 days of its journey.  At Hessian we recommend staff training by a professional is critical.  This ensures great coffee is made simple whether it's an espresso, cappuccino, flat white, latte or americana.  If you do this then your customers will return time and time again. Great Coffee made simply!
A box doesn't just need to be a box but a story and a journey of excitement.  Something to give that feeling of opening a present on Christmas day from someone that cares.