30 MINUTES PREPARE IN 6 STEPS
Surprise your guests with something unexpected: give a Belgian twist to an Italian classic. The magical bond between Lotus Biscoff and coffee adds that little bit extra to this popular dolce.
Ingredients
Serves 8 people
• 3 eggs
• 6 tbsp sugar
• 2 tbsp amaretto
• 500 g mascarpone
• 250 g Lotus Biscoff biscuits
• 1 cup of strong coffee
• 2 tbsp cocoa powder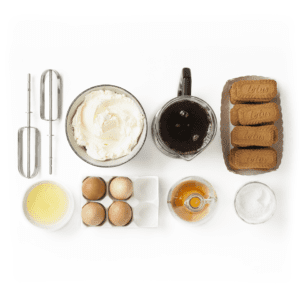 Prepare in 6 Steps
Separate the eggs and beat the yolks and sugar until creamy.
Flavour the mixture with the amaretto and add the mascarpone.
Beat the egg whites and carefully fold into the mascarpone mixture.
Divide the Biscoff among glass dishes and pour a splash of coffee on top.
Cover with a layer of mascarpone cream. Repeat these layers until all the ingredients have been used up.
Finish with sieved cocoa powder.